April – National Stress Awareness Month 
2ND APRIL 2019
As it turns out, April is National Stress Awareness Month, a slightly odd choice given that summer is on its way – the sun is a definite stress buster for us! Nonetheless, stress is a hot topic, and there are so many different types of stress, from illness to hectic work schedules, relationships to finances. Stress isn't always a bad problem though, think about having a baby, or entering a new relationship, everyone has stresses in their life, some more frequently than others, some are just better able to deal with them because they have better coping methods. Everyone is different and everyone is affected by stress differently.
What seems to be true in many cases, is that stress affects our mood, our sleep patterns and our digestion and together these can have a huge effect on our eating habits. Some people eat more, others consume less, some get stuck eating the same food over and over, others will have intense food cravings, perhaps causing them to binge. Interestingly, whilst changes in our eating habits can often be a by-product of stress, food actually has a surprising part to play and is a valuable tool in managing stress. So, whilst we'd love to be able to take these stresses away from you, if you're feeling stressed this month, try acknowledging some of our stress busting foodie tips to help you live a slightly calmer life.
First things first, try eating a few small meals, with light snacks in between. This will help stabilise your blood sugar levels, which better supports your concentration and helps to stabilise your moods.
Eat probiotic bacteria, such as yoghurt, as this has been shown to help support mental function and offset the stress-hormone cortisol. At Hakuna, we always eat organic, full fat natural or greek yoghurt, delicious as a breakfast with berries and our favourite SPOON granola. Yoghurt can also be blitzed into a smoothie, or as a savoury dressing in a salad, or a tzatziki dip with raw vegetable crudités.
You've heard it before, and you'll hear it again….up your intake of green leafy vegetables like spinach and kale. These mood boosters contain folate, which produces dopamine, a pleasure-inducing brain chemical, helping you keep calm.
Treat yourself to some blueberries as these contain decent amounts of antioxidants and phytonutrients that help improve your body's response to stress and fight stress related free radicals.
Indulge in a little dark chocolate – at Hakuna we love Green and Blacks 85%. Dark chocolate also contains antioxidants to help get rid of free radicals and is also a pretty exceptional food because it contains some natural substances that give you a sense of euphoria – just like being in love! So if you're stressed after a break up, reach for that chocolate bar!
Finally, sometimes even the act of cooking or baking can be relaxing or therapeutic. The key here is to take your time. Find a recipe that you really like the look of, nothing too complicated; then take the time to buy the ingredients on your way home from work. Put your favourite tunes on, make sure your kitchen is well lit and zone into the cooking experience. Make sure to lay the table and tuck into your delicious plate of food (ensuring your phone is in another room to avoid distraction!). Tuck in and pat yourself on the back for adding a new recipe to your repertoire.
One of our vey favourite good mood meals has to be griddled salmon, garlicky greens, horseradish yoghurt and some toasted seeds. Its simple, super tasty and full of stress busting goodness. It's also nice and filling so you feel satisfied at the end, of course, we'll always finish our meal with some dark chocolate (often dipped in peanut butter!) and a cup of PUKKA night time tea for an added relaxant and a dreamy night sleep.
Griddled Salmon, Greens, Horseradish Yoghurt and Pine Nuts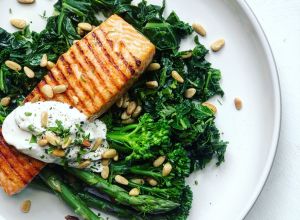 Serves: 2
Prep time: 10 mins
Cook time: 10 mins
INGREDIENTS
2 x salmon fillets
200g tenderstem broccoli
6 asparagus spears, woody ends chopped off
200g kale or other leafy green
Drizzle of olive oil
4 tbsp full fat natural yoghurt
2 tsp horseradish (to taste)
2 tsp apple cider vinegar
Squeeze of lemon
Handful of seeds, we have used toasted pine nuts
METHOD
Preheat oven to 200°C. Heat a griddle pan until just smoking, season salmon fillets on both sides and place onto the griddle rounded side first. Sear for 1-2 minutes, until it releases from the griddle pan. Place the salmon fillets on a lined baking tray and place in the oven for 7 minutes.
Meanwhile, heat up the water for your steamed vegetables, steam for about 5 – 6 minutes until the greens are cooked but retain a small bite. Remove from the steamer and season with salt, pepper and a drizzle of olive oil.
Remove the salmon from the oven and let it sit for a minute whilst you make the dressing
Mix yoghurt, apple cider vinegar and horseradish to taste, season with a pinch of salt and lots of black pepper
Place the greens on a plate, top with the salmon fillet, a good dollop of horseradish yoghurt and any dill or parsley you have, scatter the pine nuts on top and finish with a squeeze of lemon.
Relax, have a bath and put your phone away for the evening!