Balinese Peanut Satay
15TH MAY 2019
After an autumn working in the UAE, we fled the cold grey British winter and headed to Bali for the first time. Many friends have given the island rave reviews, and there seems to be a lot of social media hype. Without going into too much detail about the trip (which would take a lot more than one blog post), we traveled the island by scooter which allowed us to explore different areas of the island very easily and is one of the best ways to take in all the beauty that it has to offer! We hiked volcanoes, lazed on the beaches, visited rice paddies and coffee plantations. We drank out of coconuts in bohemian beach bars, but by far the most magical times were had visiting the local markets and eating the most incredible Balinese food.
The food scene here is incredible and just our cup of tea - beautiful fragrant ingredients, fresh local produce, predominantly vegetarian and packed full of flavour. Every meal was a dream, some costing as little as 50p, others £50, all equally amazing and delicious in their own way.
There were just so many memorable food moments I can't include them all in this post, but here I have chosen the number one recipe that I took from Bali – Sambal Kacang.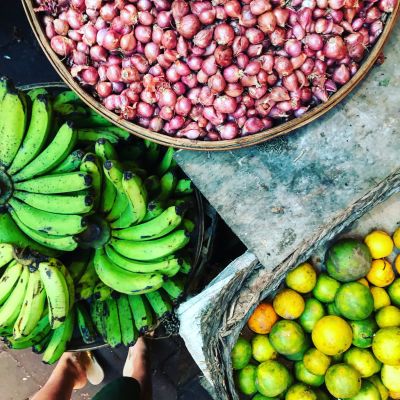 W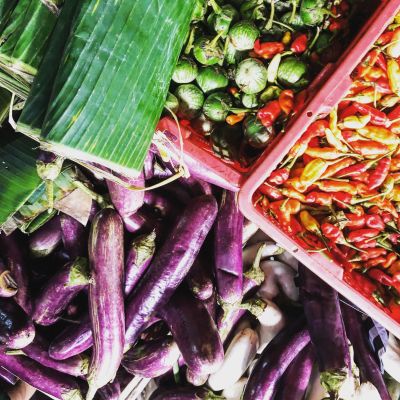 We were lucky enough to take on a cooking course for the day at Jeding Bali on the outskirts of Ubud. After a vibrant market tour where we learnt all about the local produce and the history of Balinese cooking methods, we were taken to a beautiful local home, surrounded by rice paddies to cook up a Balinese feast. There were many delectable dishes but throughout my Balinese adventure the stand out dish you were treated to wherever you went was Sambal Kacang - the best peanut sauce ever known! It's absolutely delicious with fresh tuna, chicken or pork kebabs, ideally cooked on a BBQ, but it is also super delicious with tempeh or tofu, or a selection of steamed vegetables. The recipe is pretty quick, and very simple, it's just a case of balancing the sauce just right to create a salty, sweet, spicy yet sharp finish.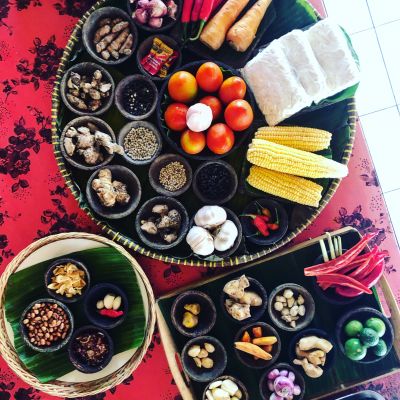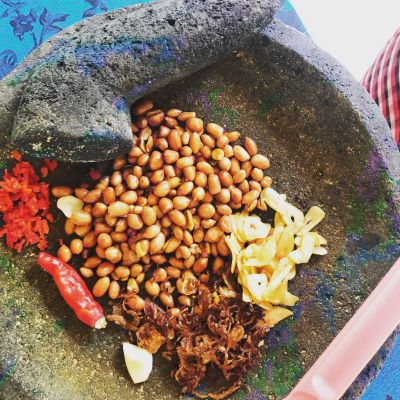 Balinese Peanut Satay - Sambal Kacung
Serves: 6 people
Prep time: 15 minutes
INGREDIENTS
1 tbsp oil such as sunflower, peanut or rapeseed
3 cloves garlic, finely sliced
8 tbsp roasted peanuts
1 tbsp crispy onions, shop bought
1 tsp shrimp paste (optional)
5cm galangal, grated
3 tbsp kecip manis
1 tsp kafir lime leaf, shredded
1 medium chilli, finely diced
Water, to loosen
Sea salt, to season
METHOD
Start by frying the garlic in oil on a medium heat until crispy but not burnt, then remove from the heat
Ideally, using a pestle and mortar, pound all the ingredients until smooth, adding water and balancing the seasoning
You could also put these ingredients in a blender and blitz until smooth
Keep in the fridge for up to 4 days