Chickpea Kale Salad with Cashew Dressing
3RD JULY 2019
A wonderful side dish or standalone lunch. This salad contains a tonne of nutrients and is beautifully balanced as the spicy chickpeas are teamed against the creaminess of the dressing and the freshness of the kale and any other vegetables you choose to add!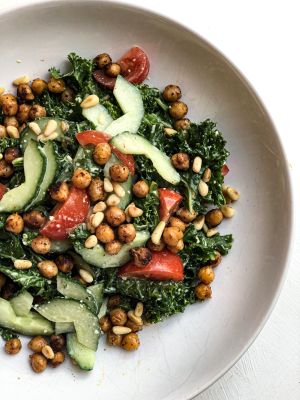 Chickpea Kale Salad with Cashew Dressing
Serves: 3-4 (as a side)
Prep time: 15 mins
Cook time: 20 mins
INGREDIENTS
1 x 400g tin chickpeas, drained
Rapeseed oil, drizzle
1 tsp sweet smoked paprika (or any spices or dried herbs you fancy)
50g cashews
1 lemon, juiced
2 tbsp nutritional yeast
1/2 garlic clove
2 tbsp pine nuts
200g kale, stalks removed, shredded 2cm
1/3 cucumber, seeds removed and sliced
3 vine tomatoes, chopped into bitesize chunks
METHOD
1. Preheat oven to 200 degrees and line a small baking tray with parchment paper. Pour the drained chickpeas onto the tray and drizzle with rapeseed (or coconut) oil, sweet smoked paprika, salt and pepper. Place in the oven for 15 minutes.
2. To make the dressing, using a nutribullet or blender and blitz cashews, garlic, nutritional yeast, lemon juice, salt, pepper and 150ml water until smooth, check for seasoning and balance, then set to one side.
3. Place the shredded kale in a bowl, big enough to get your hands in, add two thirds of the dressing and use your hands to massage the dressing into the kale - this will soften and season the kale at the same time. You may need to do this for 2-3 minutes, keep trying it to check it's softness.
4. Add the pine nuts to the chickpea tray and cook for another 4-5 mins to toast them
5. Add the chopped tomatoes, cucumber, and any other roasted vegetables or herbs you like to the kale, then add the chickpeas and pine nuts and finish with the remaining cashew dressing.