Duchess Oil – Farming, Food and Festivals
30TH APRIL 2019
Last week, we had the pleasure of meeting Max and Oscar from Duchess Farms,based in Sawbridgeworth. We were so pleased to meet some fellow Hertfordshire folk doing so amazingly well in the world of food. The farm, for those of you that aren't aware of Duchess Extra Virgin Cold-Pressed Rapeseed Oil (you should be!), is a sea of yellow oil seed rape. Acres of these beautiful flowers surround Max and Oscar's super cool office – a lovely old barn, embellished with empty bottles of gin and vintage Italian racing boats. Straight away there is a sense of history, family value and community to their brand.
Following some serious foodie talk, including the likes of Noma, our favourite Natoora and London's best eateries, we started to discuss the history of Oscar's 200-year-old family farm. It started out as a dairy farm, moving onto arable later down the line thanks to the clever foresightof his great Grandma, affectionately known as the Duchess,which has gone on to become the name for their wonderful brand.
We spoke about the history of farming on many levels, the European subsidies and incentives currently in play, and inevitably what COULD change after Brexit?! What we thought most impressive, is Duchess Farm's dedication to small batch farming. This saves them from employing an army of workers, enables them to quality control their oil to perfection, and allows them to supply the freshest oil to their impressive list of clientele. Quality over quantity is of the upmost importance to Oscar and Max, this is why they have made the innovative choice to keep their rape seed oil production small and instead diversify by growing small batches of heritage wheat, experimenting with white oil seed rape from Copenhagen and allowing others to use the land for organic vegetables. They are so focused on providing the best quality produce that Oscar suggested, in a bid to save the planet, crops should be priced by their nutritional content, rather than simply weight. This would discourage farmers from growing crops slathered with pesticides and insecticides, creating a poor cropbut with a high yield.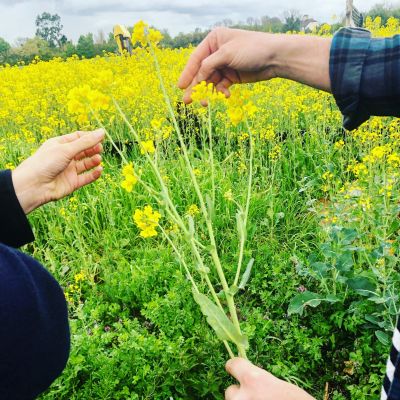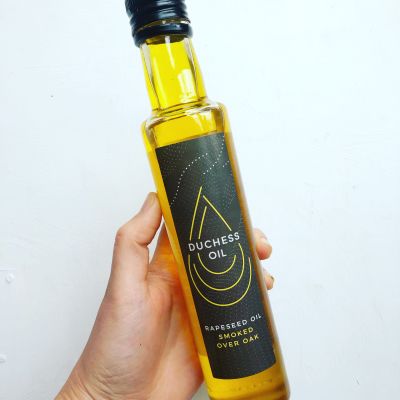 Once we'd put the world to rights and eaten some delicious chocolate from Amsterdam, Max and Oscar, accompanied by their dog, Cami, took us on a tour of the farm to better understand the production of their rapeseed oil. We began in the field, where they showed us the seeds of the plant, and how they farm successfully without insecticides. We discovered you could eat the leaves of the plant, which taste similar to members of the brassica family. You can also eat the flowers, which would look beautiful in a spring salad. We then went to see how the seeds are pressed to create the oil, then onto the filtering system, and then the bottling plant. Nothing is wasted in the process, with the leftover seed press made into animal feed. Duchess believe that this zero waste approach should be protocol for all businesses, they don't shout about it from the roof tops, because they have been doing it since day one, believing that it's the responsibility of every company, and that it shouldn't be used as a marketing tool. We agree and were so impressed by this sleek operation.
Duchess Farm has a main rapeseed oil, which you can buy from Ocado in a 1l bottle at a very modest price. However, they also supply in larger quantities to London's best restaurants. As well as this, they have a raw oil, which is unfiltered, and a smoked oil which they send to a smokehouse in Sussex. Both are incredible, and with different flavour profiles, they add a delicious depth to a salad that is difficult to find in other oils. Our simple tricolor salad has been given a revamp in our recipe below. Perfect in the summer when tomatoes are bursting with flavour.
Tomato, Mozzerella, Avocado Salad with Smoked Oil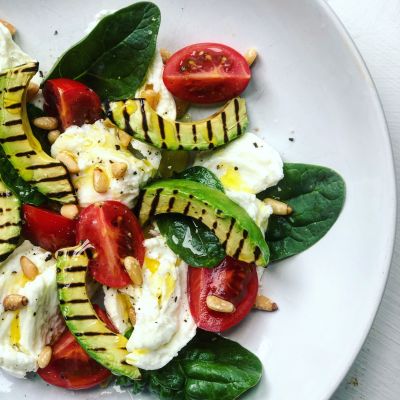 Serves: 2
Prep time: 15 minutes
INGREDIENTS
4 plum tomatoes on the vine
1 avocado
1 ball of mozerella
Handful of basil leaves
Handful toasted pine nuts
Drizzle of smoked oil
METHOD
Heat a griddle plan, whilst its heating, prepare the avocado, cut in half from top to bottom, remove the stone and slice into even slices from top to bottom. Place the avocado slices onto the hot griddle and turn once with some tongs, then remove from the heat
Pick some basil leaves and slice the tomatoes into quarters, then tear the mozzarella into pieces
Arrange on a plate with the avocado, and any baby spinach leaves, scatter some toasted pine nuts on top, lots of salt and pepper, then drizzle with Duchess Smoked Oil
We can't thank Duchess Farm enough for such a fabulous Thursday morning. Max and Oscar are young, ambitious and highly knowledgeable farmers, with a passion for food and produce. We love their ethos and their brand, and can't wait to see them grow as a company. They were also kind enough to invite us to their foodie festival held at their farm in August – PX Plus – we can't wait!
https://www.pxplusfestival.com/tickets