Gigantes Plaki - Greek Baked Beans with Feta and Herbs
19TH MARCH 2020
Gigantes Plaki - Greek Baked Beans with Feta & Herbs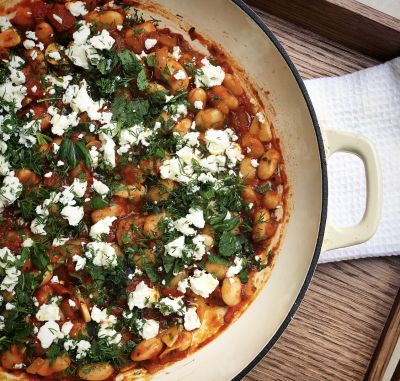 Serves 2
Prep time: 5 mins
Cook time: 30 mins
A perfect brunch recipe for this weekends isolation. These beans are delicious, filling and so comforting. They are a great source of fibre as well as containing 6g of protein per 100g, you could also add a fried egg on top to boost your protein! This is a one pot dish which you can make with your store cupboard ingredients. You can substitute the butter beans for any other type of bean, and you could throw in any spice pastes to give it an extra boost! It's also delicious without feta, or use any other cheese you have in your fridge! The combination of rich tomato sauce, herbs and salty cheese work so well together and go even better with a chunk of bread on more indulgent days.
If fresh dill or oregano are hard to come by, substitute for parsley, or basil.
Ingredients
400g tin of butter beans
1 onion, finely chopped
3 tbsp olive oil
3 large garlic cloves, thinly sliced
1 tbsp of dried oregano
1tbsp chopped thyme fresh/dried
1 tbsp of tomato puree
1 can of chopped tomatoes
2 sprigs of oregano or parsley
Toppings:
100g feta – crumbled (any cheese will be delicious!)
1/4 pack of dill finely chopped
2 sprigs of mint - finely chopped
Drizzle of extra virgin olive oil
Method
Place a large heavy bottom pan over a medium heat, add the onions and cook until soft and starting to brown, approximately 10-15 minutes. Add the garlic and cook for 2 minutes, stiring regularly, then add dried oregano, thyme, tomato puree and cook for another 3 minutes, stirring regularly. You can add a splash of water if it's catching a little.
Drain and wash the butter beans in a sieve and add to the pan with the tinned tomatoes, fresh oregano, salt and pepper and simmer for 15-20 minutes.
To serve, simply sprinkle the chopped herbs and feta over the finished dish with a drizzle of good olive oil.