Levain Bakery - Chocolate Cookies
18TH JULY 2019
A recent trip to New York got us caught in a foodie frenzy. There were so many places to choose from, we were spoilt for choice, plus we were lacking in time, so we picked our restaurants, bars and cafes meticulously. We took to Instagram for recommendations, as well as hitting up some locals for all the top places to try. One eatery that topped the charts every time was the Levain Bakery – famous for their OTT cookies.
Having strolled round the bustling streets of NYC all morning, we were more than deserving of a mid morning cookie. A perfect elevensies stop and one we were looking forward to. We headed to the infamous Levain Bakery – a tiny little café in a basement – its popularity was evident even as we approached. There was a queue of people, a combination of tourists and locals, nonetheless all eager to order their cookies.
Having queued for a mere 15 minutes, we ordered two double chocolate peanut butter cookies, one for us to share, and one for our friend who we stayed with in NYC. The smell was incredible and they looked epic – thick – just like the pictures. Sadly, it wasn't as warm as we'd hoped, and therefore not as gooey either, but nonetheless it was crisp on the outside, soft in the middle and packed full of chocolatey peanuty goodness. It was sweet, and maybe a tiny bit artificial, but overall, washed down with a coffee, it was a delight. Was it worth the hype? That's open for debate. We make some pretty incredible cookies at Hakuna, AND we know exactly what goes into them, and we stay clear of anything too over processed. So if you're a fan of Levain, or you're yet to venture there, but love a cookie, try out our recipe and let us know how they compare. It's a big ask, but we love these as an alternative, suitable for vegans AND gluten free. Winning.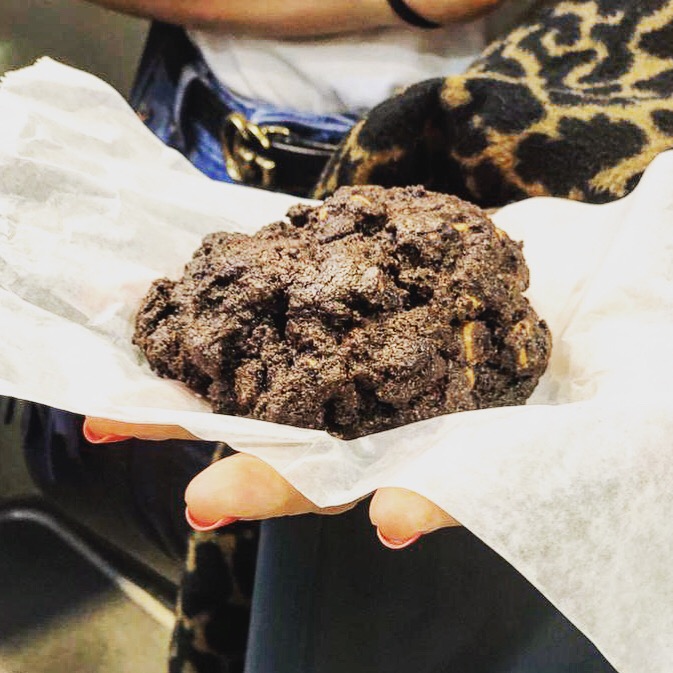 Vegan Chocolate Chip Cookies
Serves: 20
Prep time: 15 minutes
Bake time: 10-12 minutes
INGREDIENTS
200g dark chocolate, chopped - we love Green and Blacks 85%!
100g ground almonds
100g oats
4tbsp cocoa powder
120ml coconut oil, melted
120ml maple syrup
¼ tsp baking soda
¼ tsp salt
1tsp vanilla paste
150g pecan nuts, toasted and chopped (you can also use almonds, brazil nuts, peanuts or hazelnuts!)
METHOD
Preheat oven to 180 degrees and line 2 large baking trays with parchment paper
In a large bowl mix all the dry ingredients together. Add the maple syrup, oil and vanilla and combine to form a stiff cookie dough. Roll into golf sized balls with you hands, place each cookie at least 5cm apart on the baking trays
Using two fingers press down gently on each cookie to flatten them slightly.
Bake in the oven for 10-12 mins, the cookies will be soft when you take them out of the oven so leave them to cool on the baking tray.
These cookies keep incredibly well! Leave to cool completely then store in an air tight container for 1-2 weeks!