Nori Rolls with Spicy Almond Dipping Sauce
5TH JUNE 2019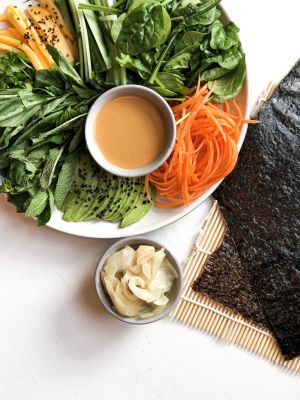 Whether as a snack, an entire meal or a side dish, we crave these nori rolls all the time. They happen to be raw and plant based (unless you add salmon or tuna – also delicious!), and we just love them, as do so many of our clients. They have a delicious balance of salty, sweet, sour and spicy – the crunchy vegetables paired so well against the creamy almond dipping sauce.
There are so many options you could include inside the rolls, and we guess they have evolved as some sort of bastardised sushi roll. We have given you an example filling here, it was probably all we had in our fridge to be honest, but you could add sushi rice or leftover brown rice to pad them out which would add some additional carbohydrates to the meal. You could also add some cooked salmon, or raw tuna or tofu as an additional protein source. Some people don't like fruit with their savoury meals, in which case, the mango can be easily omitted, others like extra spice so we recommend a few slices of chilli in the rolls. Whatever your flavour preference, these are a winner for simply any occasion.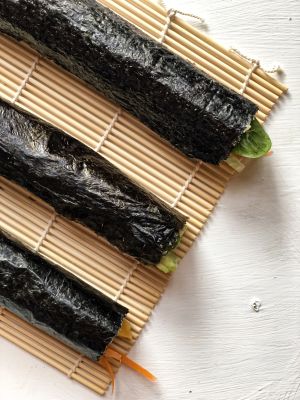 Nori Rolls with Spicy Almond Dipping Sauce
Serves: 2
Prep time: 30 mins
INGREDIENTS
Nori Rolls:
6 nori sheets
Handful thai basil leaves, or regular basil
Handful mint leaves
Handful coriander leaves
Handful baby spinach leaves
2 carrots, julienned
½ cucumber, julienned
1 mango, sliced into matchstick pieces
1 avocado, sliced
1/2 lime, juice
Tofu, cooked salmon, raw tuna (optional)
White miso
Pickled ginger
Almond Dipping Sauce:
2 tbsp almond butter
2cm ginger
1 garlic clove
½ red chilli
2 tbsp tamari
1 tbsp maple syrup
1 tbsp mirin
3-6 tbsp water, to loosen
½ - 1 lime, juiced
METHOD
Firstly begin by making the dipping sauce. Blitz all of the ingredients in a nutribullet or blender, seasoning the sauce to the correct balance of sweet, salty, sour and spicy. Leave to one side.
Make sure all of your vegetables and protein are prepped, and that you have picked your herbs. Arrange them so that you can work quickly and easily.
Place the nori sheet on a sushi bamboo mat, if you have one, if not, onto a chopping board is fine. Make sure the long edge is closest too you. On the bottom third of the nori sheet place a little but of each vegetable and protein. If you are using rice, make sure to place this first in a thin layer.
On the top third, spread a thin layer of miso, this adds another flavour profile – umami – and also acts as the glue to wrap the rolls.
Gently, but firmly, roll the vegetable third over itself, rolling like you would sushi, until the miso binds the roll together.
Continue until all of the nori wrappers and vegetables are used up. Use a sharp knife to carefully slice the rolls into 5 pieces and serve immediately alongside some pickled ginger and almond sauce.