Peanut Butter, Oat and Dark Chocolate Energy Balls
25TH JUNE 2019
Perfect with a cup of tea, these afternoon pick me ups are great for that mid afternoon slump or pre/post gym treat. There are countless recipes available for energy balls online, but these ones are great if you don't have access to a food processor. You can play about with the ingredients, but we find these ones are loved, especially by children and teenagers. They're SO easy to make, you can pop a couple in your bag and they will prevent everyone hitting that slump.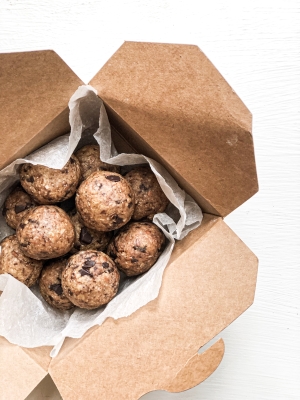 Peanut Butter, Oat and Dark Chocolate Energy Balls
Serves: 11
Prep time: 10 minutes
Chill time: 1 hour
INGREDIENTS
75g oats
100g peanut butter (or see our recipe for homemade almond and coconut butter), if too thick, place in the microwave for 30 seconds to warm slightly and loosen. We love using Manilife!
15g flax
60g maple syrup
35g dark chocolate, chopped fine, we always use Green and Blacks 85%
Pinch of salt
METHOD
Place all ingredients in a mixing bowl and stir together until fully combined
The mix should come together when you press it with your fingers
Roll the mix into 25g balls, you should get about 11 balls with this amount of mix
Place in the fridge for at least 1 hour to firm up, or 20 minutes in the freezer if you just can't wait!