Rhubarb and Vanilla Porridge with Pistachios
26TH APRIL 2019
Porridge is a BIG love of ours, it's a cheap and versatile breakfast, perfectly suited to every season. It's a big bowl of comfort, rich and creamy, yet nourishing with many health benefits. The key to perfect porridge is the type of oat. We love a chunky porridge, which is nutty and chewy and our favourite brand is Rude Health – Annabel loves the sprouted oats whilst Victoria prefers the classic oatmeal.
We use a variety of milks, depending on what we're teaming the porridge with and whether there are any specific dietary requirements. This recipe uses oat milk, but you could use any alternative like almond, hazelnut, or cows milk. We like to keep our porridge seasonal as and when we can. We are so lucky to use our homegrown rhubarb, it's the champagne variety and we grow it in a pot in the garden. It's so easy to grow and it just comes back every year, ready to harvest in late winter, early spring.
The tart rhubarb compliments the creaminess of the porridge and the sweetness of the maple syrup whilst the pistachios add a delicious nutty crunch. This is a winning combination, and we love to add nuts and seeds or nut butters to our porridge to ensure we get a little bit of protein in our breakfast to keep us going until lunch.
As the seasons change, we will share with you lots of different porridge toppings, using various types of grain and milk. We take lots of inspiration from 26 grains – Alex is a talented chef and a successful business woman and we love what she has achieved at her beautiful café in Neal's Yard.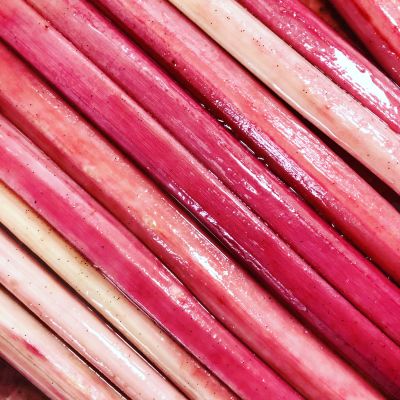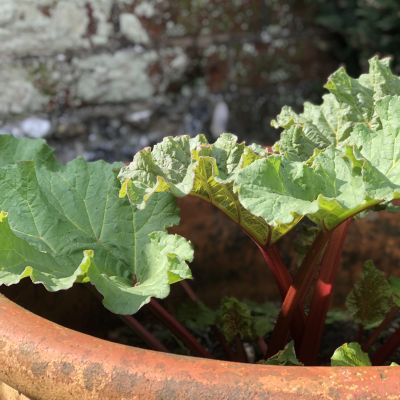 Rhubarb and Vanilla Porridge with Pistachios
Serves: 2
Prep time: 5 mins
Cook time: 15 mins
INGREDIENTS
250g rhubarb
2 tsp vanilla bean paste (1 tsp for rhubarb, 1 tsp for porridge)
3 tbsp maple syrup, to taste
12g Pistachios
80g oats
300ml oat milk plus 150ml water
Pinch of salt
METHOD
Preheat oven to 170°C and line a baking tray with parchment. Cut rhubarb into 3cm sticks and place on the baking tray, drizzle with maple syrup and vanilla bean paste, make sure all the rhubarb is coated and roast for 15-20 mins, until soft but still holding their shape.
Meanwhile, add the oats, water, oat milk, salt and vanilla bean paste to a saucepan and allow it to heat for about ten minutes, stirring frequently, until the liquid has all been absorbed and the oats are soft with a tiny bit of bite
Place pistachios on a small baking tray and roast for 3 minutes, remove from the oven and leave to cool, then chop coarsely
Remove the rhubarb from the oven, check the sweetness as rhubarb can be very tart.
Place the porridge into two bowls and add all your delicious toppings, top with more maple syrup and a dash of oat milk if you have a sweet tooth.