Spanakopita - Greek Spinach Filo Pastry Pie
29TH APRIL 2020
Spanakopita
A delicious vegetarian dish, perfect for spring! The combination of crisp filo and soft filling is wonderful and the comforting nature of a pie is just what you want whilst the weather is a bit miserable. The cheese and herbs disguise the fact the dish contains a lot of spinach - which is packed full of vitamin c and iron. You could use frozen spinach and omit stage one in the method, just wait for it to defrost before starting the recipe.
Serves: 6
Prep time: 30 mins
Cook time: 40 mins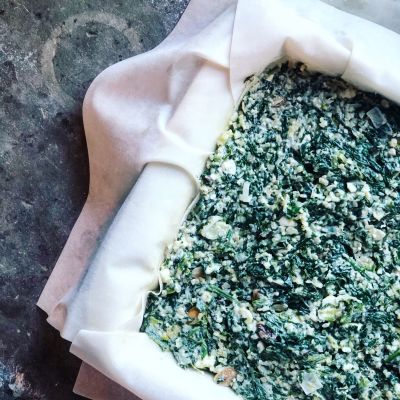 Ingredients
1kg spinach, remove big stalks, washed
2 tbsp rapeseed oil
1 large leek, finely shredded
3 spring onions, finely chopped
300g sheep feta, crumbled
20g dill, chopped
20g mint, leaves chopped
3 sprigs oregano, leaves chopped
75g bulgur wheat, cooked (you could you cooked couscous, rice or omit altogether)
2 eggs, beaten
Zest of 1 unwaxed lemon
Nutmeg, freshly grated
Packet of filo pastry
Olive oil
Method
1. Over medium heat in a large frying pan, add the spinach in batches, still with some residual water from where it has been wash. Cover for a few minutes, stirring occasionally, until just wilted. Place into a sieve, suspended over a bowl.
2. Once all the spinach is cooked, add 2 tbsp oil to the frying pan, add the leek and cook for 8 minutes, until softened but not taking on any colour. Then stir in the spring onions, and keep stirring, for 1 minute. Remove from the heat.
3. In a large bowl add feta, herbs, bulgur wheat, egg, nutmeg, salt and pepper.
4. Press the spinach with a ladle or back of your hand, this will release any excess water, when it's dry, add this to the mix and stir to combine. Set aside.
5, Preheat the oven to 200C/390F/gas 6. Brush a 30cm x 25cm ovenproof dish with olive oil, then use half the filo pastry to line the bottom and the sides so that you have a few layers of pastry and lots hanging over the edges. Brush with oil, or use an oil spray in between each sheet of filo.
6. Spoon the filling into the pastry covered dish until it is full, level out with the back of a spoon. Fold the excess pastry over the top of the cheese and spinach mix.
7. Brush the remaining layer of filo pastry and place them on top of the pie to create a ripple effect, this doesn't need to be neat. Place in the middle of the oven for 40 minutes, until golden brown.