Vegan Chocolate Pots
11TH JUNE 2019
We recently had some silken tofu lying around Hakuna HQ – it was leftover from a film and was coming up to its use by date. We did some research on silken tofu and found this youtuve video on how to make our own – it's a really informative video and well worth the watch if you're interested.
Essentially, silken tofu has a softer consistency than regular tofu and will fall apart if not handled carefully. It is great to use in salad dressings, sauces and puddings and normally blended into a creamy texture. It's a great dairy substitute in vegan puddings, containing less fat and calories.
We put our silken tofu to excellent use in these super simple and delicious chocolate pots. You could eat these all year round, and garnish with seasonal fruits of your choice. In the summer these would be great with summer berries and in the winter, maybe add some cinnamon, chia mix or some coffee granules for a lightly spiced warming flavour.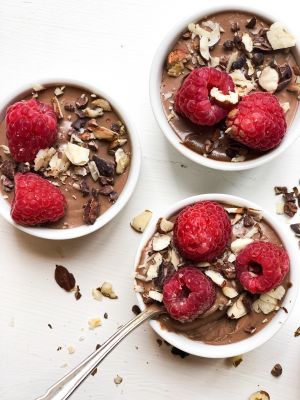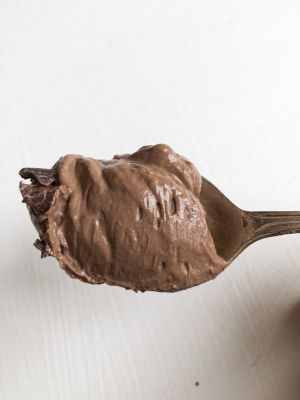 Vegan Chocolate Pots
Serves: 4
Prep time: 5 minutes
Chill time: 2 hours
INGREDIENTS
Chocolate pots:
300g silken tofu
60g dark chocolate (70% minimum)
1 tbsp cocoa powder
2 tbsp maple syrup
1 tsp vanilla bean paste
Pinch of salt
Garnish:
Raspberries
Toasted Hazelnuts
Cocoa nibs
METHOD
Melt dark chocolate over a bain marie or in the microwave for 1.30 minutes until just melted
Place all the ingredients in a nutribullet (you could use a blender or food processor but a nutribullet is perfect for this amount and super speedy to clean down)
Taste for sweetness, this is a personal preference, and will also depend on how dark your chocolate is
Pour into small ramekins and place in the fridge for 2 hours to set
Remove from the fridge and garnish with fruits, nuts, granola of your choice