Vegan Christmas Mushrooms
17TH DECEMBER 2019
Vegan Christmas Mushrooms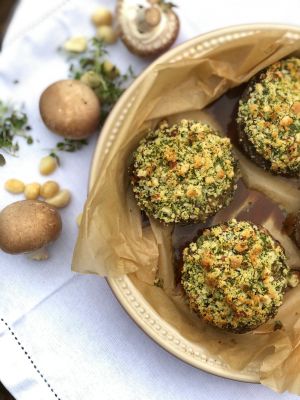 Serves: 4
Prep time: 45 mins
Cooking time: 40-45 mins
It can be such a challenge to please all your guests on Christmas day. We always have a vegetarian option on our menu and this year is no exception. We've veered away from pastry and heavy nut roasts, and have created this delightful plant based alternative which even the meat eaters will love.
These stuffed Portobello mushrooms with a deliciously savoury chestnut filling and crunchy macadamia topping are a real crowd pleaser, they'd be excellent all year round! This recipe feeds four but be warned of curious meat eaters wanting to give them a try!
Chefs tip
You can make these beauties one or two days in advance. Keep them covered in the fridge and cook as instructed.
INGREDIENTS
Mushrooms
4 large Portobello mushrooms
Stuffing
2 tbsp fresh thyme, chopped
6 banana shallots, peeled and finely sliced
2 cloves of garlic, thinly sliced
100g cooked vacuum packed chestnuts, roughly chopped
30g of dried porcini mushrooms covered in 400ml of boiling water and left for at least 10-20 mins to rehydrate
2 tbsp olive oil
50g spelt
1 vegetable stock pot
½ lemon, zest
Salt and pepper
Nut topping
50g macadamia nuts
20g flat leaf parsley, roughly chopped
½ clove of garlic, grated
1 lemon, zest
40g ground almonds
25g whole almonds
2 tsp olive oil
Salt and pepper
METHOD
1. Preheat oven to 180C/160C fan/gas 4.
2. In a large baking tray, add the almonds and macadamia nuts and bake for 6-8 mins being sure to watch carefully so they don't to burn! Remove from the oven and set aside to cool.
3. Place to spelt in a sauce pan. Take the liquid from the soaked dried mushrooms by draining them over a sieve into the saucepan, reserve the mushrooms as we will add those to the stuffing later. Add the vegetable stock and place on a medium heat for 40-45 mins or until the spelt is soft. If necessary, add more water during cooking. Once cooked, drain any excess water and set aside to cool slightly.
4. Place your pre-roasted macadamia and almonds into a food processor with the grated garlic, olive oil, parsley, ground almonds, lemon zest, salt and pepper. Blitz together for a few seconds to make a course breadcrumb texture, do not make the mix too fine. Tip the mixture into a large bowl and set aside.
5. Next make the stuffing. In a medium saucepan add the oil, shallots and a pinch of salt and gently sweat on a medium to low heat for 8 minutes until soft and sweet, making sure not to brown. Add the sliced garlic, chestnuts, thyme and reserved porcini mushrooms. Cook for a further 3-4 minutes then add the cooked spelt, lemon zest and season with salt and pepper to taste. Tip this mix into the food processor bowl (no need to wash the bowl just give it a dust out) and blitz for a few seconds to make a course stuffing.
6. Now it's time to top the mushrooms, using a rubber spatula scoop some of the stuffing mix up and spread into the underside of the mushroom filling all the gaps then add a little extra so as it is slightly domed. Repeat with the remaining 4.
7. Top the mushrooms with the nut topping mix. Try to get as much as you can onto each mushroom, press firmly to pack the mix down.
8. Carefully lift the mushrooms back into the lined baking sheet and place on a shelf in the middle of the oven for 35-40 mins until the mushrooms are cooked all the way through and the top is crunchy and golden brown.