Chicory, Pear, Stilton and Pecan Salad
27TH OCTOBER 2019
Chicory, Pear, Stilton and Pecan Salad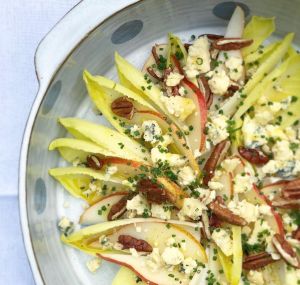 Serves: 4 as a starter or 2 for lunch
Prep time: 20 mins
Cook time: 5 mins
Christmas can be super indulgent, but food doesn't have to always be so heavy and rich. This is a delicious salad recipe, which goes wonderfully alongside boxing day leftovers. Chicory (or endive) is a beautiful leaf, mostly grown in Holland, but it is now available in the UK. It is a little bitter in flavour but is balanced so well with the sweet crisp pear, creamy gorgonzola and earthy crunchy pecan, rounded off with a white balsamic dressing.
Chefs Tip
This salad can also be served as a canapé. Because if its shape, chicory is a great natural little bowl for the pear, gorgonzola and pecan mix. Simply pile into each leaf of the chicory and place elegantly on a board for your guests.
Ingredients
50g pecans
1 blush pears
2 chicory heads
50g Stilton (or gorgonzola)
½ a lemon
1 tsp chopped chives
Dressing
1 tbsp white balsamic vinegar
40ml olive oil
½ lemon, juice
½ tsp mustard
½ tsp honey
Salt and pepper
Method
First, toast the pecans. Preheat oven to 180C/fan 160C/gas 4. Spread the pecans out on a baking sheet and bake for eight minutes, until fragrant. Set aside to cool.
Meanwhile, make the vinaigrette by whisking all of the ingredients together. Set aside.
Cut the base off each chicory head and gently pull off each leaf. Wash the leaves, dry, then place in a serving bowl. Drizzle a few tablespoons of dressing and toss the salad to ensure all of the leaves are coated.
Chop pecans into slightly smaller pieces. Then, cut pears into thin slices, keeping the peel on but discarding the core. Squeeze a lemon onto the pear to stop it from turning brown, then scatter these over the chicory. Crumble the stilton and scatter onto the salad, followed by the pecans and the chives. Dress with a little more dressing if required and serve immediately.