Chocolate, Orange and Olive Oil Cake
15TH APRIL 2020
Chocolate, Orange and Olive Oil Cake
A deliciously rich and moist cake, perfect with a dollop or crème fraiche or coconut yoghurt, a grating of orange zest and some crunchy toasted hazelnuts.
Serves: 8
Prep time: 10 minutes
Cook time: 40 minutes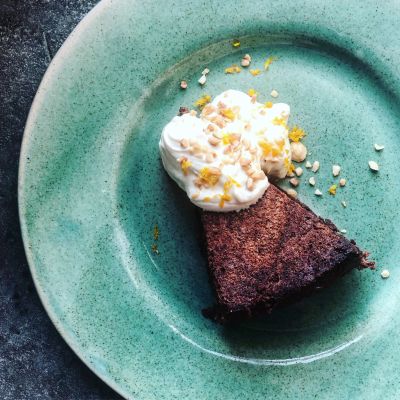 INGREDIENTS
200g dark chocolate, minimum 70%, broken into squares
130ml olive oil
200g golden caster sugar
5 eggs, separated
50g ground almonds
2 oranges, zest
Sea salt
METHOD
Preheat an oven to 170C/325F/Gas 3. Grease a 20cm springform cake tin with a little oil and line the base with baking parchment.Melt the chocolate in a heatproof bowl set over a pan of simmering water for a few minutes until just melted, stir regularly.
Once the chocolate has melted, slowly pour the olive oil into the chocolate whilst beating together with an electric whisk. Add 130g sugar, and continue to whisk until the sugar has dissolved. Add egg yolks, ground almonds, orange zest and a pinch of seat salt. Stir to combine and set aside.
Meanwhile, whisk the egg whites to soft peak and then gradually add the golden caster sugar in a stream, until you reach medium peak.
Add a large spoon of the egg white mixture to the chocolate, and stir to combine, this will loosen the mix. Fold the rest of the egg white mixture in with the chocolate, try not to loose too much air.
Spoon the batter into the prepared tin and bake for 40 minutes. To test the cake is ready, insert a skewer into the centre of the cake, and the cake is ready when the skewer is clean when removed.
The cake will have risen in the oven and will deflate and crack a little so leave it to cool in the tin for 15 minutes. Carefully remove from the tin, discard the greaseproof paper and serve alongside some crème fraiche or coconut yoghurt, a grating of orange zest and some chopped toasted hazelnuts.